Updated Sept. 21, 2021
HURRICANE IDA RELIEF FUND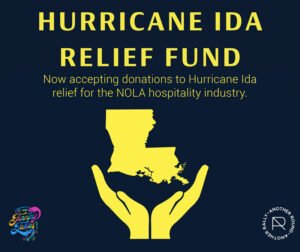 Another Round Another Rally and Turning Tables are partnering to get help to hospitality workers who have been affected by Hurricane Ida. The Hurricane Ida Relief Fund is designed to distribute money directly to food service workers in New Orleans and surrounding areas who have been negatively impacted by Hurricane Ida.
DONATE NOW: See how you can help
While most bars and restaurants across the country (and world) are beginning to return to "normal," more than a year of dealing with coronavirus restrictions has taken a heavy toll. Many establishments near and dear to us are still going through rough times. A few are still closed for indoor service.

We feel strongly about supporting the owners, managers and employees as they deal with this turbulence in their chosen profession. Please do all you can to help them out by whatever means possible. One easy way is to frequent their online stores, buy merchandise and gift cards, and put some cash in their coffers.
Also note that many areas of the country have made permanent the emergency rules that allow take-out and delivery of alcohol as well as food, so check with your local establishments for more info. It may be their lifeline. We've noted some of these services below.

Check the following list for links to many of the Tiki bars and restaurants across the country with merchandise and gift cards for sale online. Below that are links to crowd-sourced fundraisers for employees along with other organizations working to aid bar and restaurant workers. It's sad, but we've also compiled a list of bars that have announced permanent closings.
We also urge you to also support the artists and merchants who are key parts of the industry, designing and producing many of the products listed below. You can find links to our favorites in the right rail of this blog post. You can also support them at events that are making a comeback around the world.
SUPPORT TIKI BARS ONLINE
The following establishments are offering online ordering. If you find any broken links, please let us know and we'll update. Also, please send us any additions to this list via email or as a message on our social media pages (Facebook | Twitter | Instagram).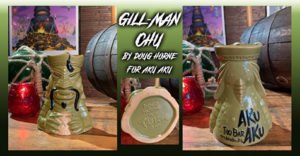 Aku Aku, Orlando – This small and inviting mid-mod Tiki oasis near downtown has an online shop featuring gift cards, T-shirts and Gill-Man Chu Tiki Mugs signed by artist Doug Horne (manufactured by Tiki Farm). Aku Aku has navigated the pandemic with limited indoor and outdoor seating.
Archipelago, Washington, D.C. – The online merch shop for this island-themed neo-Tiki hotspot features a small but well designed assortment of glassware, including snifters and Mai Tai glasses along with a signature mug from Tiki Farm. Gift cards are also available. After operating outdoor patio seating for months, the bar closed in late December for a winter siesta. Takeout service resumed in February, followed by patio seating. In mid-June 2021, Archipelago resumed indoor seating after 452 days. Reservations are recommended.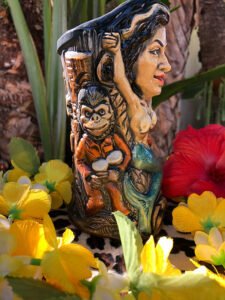 Bahi Hut, Sarasota – This historic (est. 1954) but underappreciated Tiki landmark has shirts, pins and signature "Big Tim" mugs (created by Robo Tiki) available in its online shop.. Recognized as the oldest Tiki bar in Florida, Bahi Hut is also site of the annual Tiki Fever event, set for Sept. 30 through Oct. 3, 2021. The bar reopened in October 2020 with both indoor and outdoor seating. In January, a collector's edition Tiki Fever mug featuring both Marina the Fire Eating Mermaid and The Disasternauts was released, selling out quickly.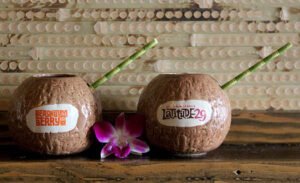 UPDATED: Beachbum Berry's Latitude 29, New Orleans – The bar and restaurant owned and operated by author and Tiki revival pioneer Jeff "Beachbum" Berry and his wife Annene Kaye is well represented in the BeachbumBerry.com store, including syrups and barware. While you're there, pick up the Bum's books so you can make the hundreds of tropical classics at home. Latitude 29 will be reopening after closing in the wake of Hurricane Ida on Friday, Sept. 17. The menu will include all the cocktails plus some food. Hours and offerings will be adjusted as time goes by. "We appreciate your patience and good will," a Twitter announement said. "Much love and looking forward to seeing you." Before the storm, Latitude 29 had been open consistently since October 2020 in the wake of the pandemic
Chopper, Nashville, Tenn. – This new robot-themed Tiki bar has an extensive assortment of mugs in its online shop, including the signature Robo mug in several colors. Gift cards are also available online, along with the bar's to-go service. Chopper reopened its indoor seating while retaining the take-out menu.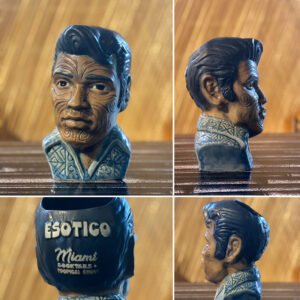 Clifton's Pacific Seas, Los Angeles – Closed since the early days of the pandemic, the Tiki bar inside the legendary Clifton's complex is represented in its parent company's vast online shop, Exposition Marketplace of The Neverlands. There are tons of exclusive items available, including artifacts to "create your own Tiki paradise" (nautical anchors and bells, mixology tools and books, rope buoys, and much more). Check back regularly for new items. Clifton's is planning on reopening around October 2021, according to the official website.
Esotico Miami – This tropical hideaway in the Magic City, led by noted Tiki mixologist Daniele Dalla Pola, offers mugs and shirts in its online store. Esotico also has a GoFundMe page that benefits its employees. The restaurant reopened indoor dining under social distancing restrictions in August 2020 after offering outdoor dining as well as takeout, curbside pick-up and delivery throughout the pandemic.
False Idol, San Diego – Consortium Holdings, one of the partners (along with Tiki bar guru Martin Cate) in this over-the-top throwback to classic Tiki hidden inside the Craft & Commerce bar, offers mugs and gift cards for sale online. False Idol has reopened at limited capacity, serving cocktails and food via reservations only. A full slate of events has been announced for the week of the annual Tiki Oasis in August. These include a fifth anniversary mug release as well as the release of a a new limited-edition glaze of Bosko's Maori mug. Check the Instagram and Facebook pages for details.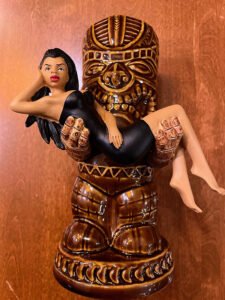 Forbidden Island, Alameda, Calif. – You can buy apparel, mugs, and gift cards directly from one of the Tiki revival's first shining beacons. After being closed for more than four months, Forbidden Island opened a socially-distant Tiki garden and patio for limited hours in late July 2020. New restrictions in December limited Forbidden Island to take-out service, but outdoor seating was fully open again in February. Indoor dining returned in March, when Forbidden Island announced the arrival of their long-awaited Turquoise Kapu mug, the eighth glaze in 15 years. Also from Tiki Farm, a limited-edition version (in brown and green) of the Tamuaki mug designed by carver and artist Benzart Davis, embossed with the FI logo. A new 15th anniversary limited edition mug designed by Brad "Tiki Shark" Parker and produced by Munktiki made its debut at a special event on May 23 before becoming available online in the official website merch store.
Foundation Tiki Bar, Milwaukee – Grab a Rum Barrel mug, a Mai Tai glass and other items from this long-running Tiki revival hotspot. Foundation reopened with both outdoor and indoor seating. Locals have also been able to order to-go cocktail kits, which can sometimes include special signature glasses.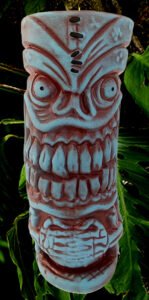 Frankie's Tiki Room, Las Vegas – A wide variety of mugs, glassware and apparel fill the online store of this beloved Tiki bastion in Sin City. New mugs are released often, so check back. You can also pick up gift certificates and a copy of the 2013 book, Liquid Vacation, which features recipes for 77 of the bar's famous cocktails. Frankie's has returned to being the world's only 24-hour Tiki bar, open seven days a week.
Fuchsia Tiki Bar, New Paltz, N.Y. – This small tropical escape hidden away in Ulster County, around 70 miles north of the Big Apple, survived the pandemic by offering merchandise, gift cards and cocktails to go. Fuchsia reopened in June 2020 with indoor dining and limited seating capacity. After closing in December for a short hiatus, the bar reopened at the end of January with a new menu and merch.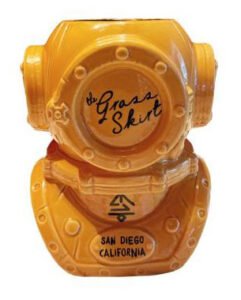 The Grass Skirt, San Diego – This fun Tiki hangout hidden inside Good Time Poke in the scenic Pacific Beach neighborhood has a plethora of merch: Mugs, bowls and glassware; plus a variety of shirts and pins. The Grass Skirt reopened in late May 2020 and hosted the annual Christmas-themed pop-up, Beachbum Berry's Sippin' Santa, at the end of the year.
Hala Kahiki, Chicago – The historic Tiki bar and lounge, established in 1966 in the suburb of River Grove, has an extensive online menu available for pick-up. The family owned and operated establishment is open to guests with socially distant indoor seating plus a covered "tropical patio." There is also a vast array of food and drinks on the to-go menu for hungry guests, along with many items from the in-house gift shop. Locals can pick up Hawaiian shirts, glasses and mugs, even an assortment of spirits. On June 6, the latest Lowbrow Aloha art show and sale allowed Hala Kahiki guests to pick up even more cool merch.
Hale Pele, Portland, Ore. – The Pacific Northwest's long-running Tiki paradise has an array of merch in its online store, from mugs to glassware to shirts to pins to gift cards. There's also a virtual tip jar for the staff. While you're there, sign up for the email blast to get news and updates. After initially offering cocktail mixes for pickup, Hale Pele was finally permitted to sell take-out cocktails (with food) in January. Hale Pele re-opened with indoor dining in late May.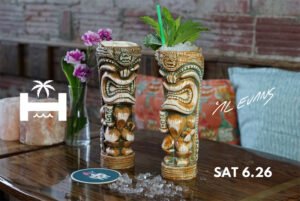 Hidden Harbor, Pittsburgh – This popular Tiki revival craft cocktail bar celebrated its fifth anniversary in June 2021 with the second and third editions of the Keeper of the Mug by artist Crazy Al Evans. The icing on the cake was the return of all bar seating (first-come, first-served). Previously, Hidden Harbor had launched the intimate Cobra's Fang dining room (reservations required). Online sales ebb and flow, depending on new releases so check back often. Merchandise is also offered in the bar's retail shop.
Hula Hula, Seattle – The longtime kitschy karaoke and Tiki bar offers a wide selection of apparel, including multiple styles of shirts and hats. Hula Hula has been open since June 2020 for food, cocktails and karaoke under the state of Washington's guidelines.
The Inferno Room, Indianapolis – Check out the online store for mugs, pins, and menus along with gift cards. The Inferno Room has been open since June 2020 with capacity restrictions, along with takeout.
Kon Tiki, Tucson, Ariz., – The venerable restaurant, established in 1963, offers mugs and apparel in its online store. The new Forbidden Ruins mug, designed by Trader Brandon and produced by Munktiki, is also available in Brandon's online store. The restaurant's dining room has been open since May 2020, along with take-out options.
Kowloon, Saugus, Mass. – This historic Asian restaurant with Tiki flair (est. 1950) has a full-blown online gift shop filled with mugs and bowls, shirts, hats and plushes. You can also buy gift certificates. Kowloon reopened with outdoor seating in June 2020, then added drive-in movies and car-hop service for guests to enjoy from their cars along with an outdoor Tiki bar and live music. In January, it was announced that Kowloon would eventually be closed to make way for redevelopment of the property.
* Boston Flips Out Over Losing a Landmark—A Giant Polynesian-Themed Restaurant (Wall Street Journal)
Laki Kane, London – The acclaimed craft Tiki bar from mixologist and author Georgi Radev has an online shop featuring a nice selection of mugs, plus signed copies of Radev's Let's Get Tropical. Laki Kane reopened in July 4 by reservation only under strict new guidelines, but was forced to close again on Dec, 16. It was allowed to reopen again for outdoor drinks, dining and takeaways on April 12, 2021.
Last Rites, San Francisco – Dubbed "Polynesian noir," this unique and modern take on Tiki with a backstory revolving around a plane crash has had to battle its own takedown by coronavirus. After being down for more than a year, the bar reopened in June 2021. You can buy gift cards at LastRitesBar.com.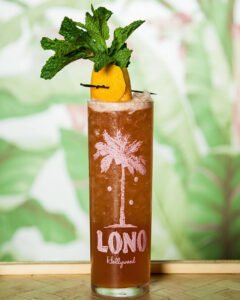 Lono, Los Angeles – This Hollywood Boulevard haunt has a new online store offering several versions of its signature mug along with glassware, pins and hats. While Lono remains closed, a selection of cocktails are available for pickup and delivery via owners Umbrella Hospitality Group.
UPDATED: Lost Lake, Chicago – After nearly 18 months, this award-winning craft cocktail bar finally fully reopened for indoor service on Aug. 28, 2021. The cozy tropical oasis is open Thursday through Saturday to start, with reservations beginning at 5 p.m. nightly. Early in the pandemic, Lost Lake created a successful GoFundMe page that raised more than $48,000 for the staff with donors receiving a special newsletter containing food and drink recipes to make at home. In June 2020, Lost Lake began offering takeout cocktails along with food before launching the ambitious Lost Lake at Home program in October. Members received access to unique and special rums, bottled cocktails, plus more.
* Lost Lake Reopens For First Time Since Start Of Pandemic With New Menus, Outdoor Patio (Block Club Chicago)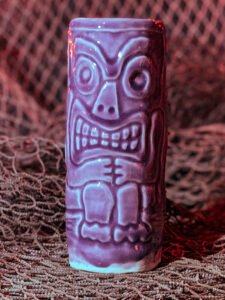 Lost River, Detroit – The Web store of this rum-focused tropical neighborhood bar on Detroit's Eastside features gift cards, plus an assortment of merchandise (mugs and glassware, plus shirts and pins). There's also an option to "tip your bartender." While indoor service was closed, Lost River featured ambitious to-go cocktails, such as February's Twilight Zone theme. In late January, a new limited edition lavender glaze of the bar's house mug was released online. Lost River shut down in April but returned May 1 with a grand reopening. To-go drinks returned on May 20.

NEW: The Hukilau 2021: Daily social media photos
The Hukilau returned to the picturesque Fort Lauderdale area oceanfront for an 18th time Sept. 16-19 for four days of Polynesian Pop paradise in America's vacationland.
>>> SEE PHOTOS, NEWS FROM SOCIAL MEDIA
UPDATED: The Mai-Kai, Fort Lauderdale – After closing in late October due to a back-of-house flood, The Mai-Kai re-launched its online Trading Post. The digital version of the historic restaurant's on-site gift shop features custom mugs, apparel, jewelry, tikis, artist prints, menus, and more. Inventory changes, so check back often. The Mai-Kai also launched its first eBay store to sell vintage items that were used in the restaurant and never before available. After closing in the early months of the pandemic, The Mai-Kai's bar and dining rooms reopened to the public under social distancing rules in late May, remaining open until a massive storm hit just before Halloween. But that didn't stop The Mai-Kai from holding its annual Hulaween bash as a drive-in movie party in the parking lot on Oct. 30. The restaurant's 64th anniversary party was also held on the sprawling property on Dec. 28. On Jan. 21, The Mai-Kai announced that it's looking for potential partners and buyers to help with the repairs. Meanwhile, The Mai-Kai family announced that they will continue to offer their popular tropical drinks to go, sell merchandise at MaiKaiTradingpost.com and host ongoing events in the restaurant parking lot. The restaurant's second Tiki Markertplace has held July 18 after the success of the initial event on April 17. Locals can pick up quarts and gallons to go on most major holiday weekends, plus special events. Check out The Atomic Grog's Mai-Kai Cocktail Guide for more info. The Hukilau returned to Fort Lauderdale and The Mai-Kai on Sept. 16-19 for its 19th Tiki weekender at a nearby beachfront resort. Saturday included a cocktail party in The Mai-Kai parking lot featuring members of the Polynesian Islander Revue, the longest-running authentic South Seas stage show in the United States, including Hawaii. Click here for a recap and photos from The Hukilau.

Tiki Marketplace offers a taste of The Mai-Kai
The July 18 event featured vintage art and collectibles, food trucks, plus authentic Mai-Kai cocktails and entertainment.
>>> CHECK OUT THE PHOTOS AND VIDEO


Thousands unite to support The Mai-Kai during closing
More than 10,000 have signed a petition and thousands are flooding social media channels as the historic restaurant plans events and offers take-home cocktails.
Max's South Seas Hideaway, Grand Rapids, Mich. – Featuring an in-house ceramic studio along with one of the most ambitious build-outs since Tiki's mid-century heyday, this acclaimed new restaurant originally sold exclusively to its on-site guests. Now, however, they continually stock a vast online store with limited-edition mugs, bowls, clothing, and other collectible merchandise. Gift cards are also available. The restaurant reopened in June 2020, then ramped up the to-go offerings to include canned cocktails.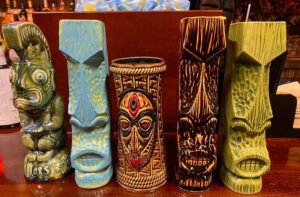 In November, Michigan's governor again closed restaurants to indoor dining in an effort to slow spiking coronavirus cases, effectively shuttering Max's through January but allowing takeout and delivery. Max' reopened in February with limits on capacity and group size, expanding to full indoor dining in April 2021.
* Press coverage: Max's South Seas Hideaway celebrates one year but faces uncertain future
The Mermaid, Los Angeles – The tropical cocktail bar in Little Tokyo has gift cards on its website, along with links to order food and cocktails to go. A GoFundMe page was created to help the staff before The Mermaid reopened in June 2020 with on-site service in an outdoor patio.
Mutiny, Detroit – This cozy tropical craft cocktail bar in southwest Detroit, open since late 2017, raised money for its staff with online sales of several new limited-edition mugs produced by Tiki Farm, plus T-shirts and gift cards. On Oct. 30, Mutiny opened for dine-in service in addition to its carry-out cocktails.
Navy Strength, Seattle – Order gift cards from this tropical-themed bar and restaurant with an eco-friendly attitude. There's also a GoFundMe page for the staff. In February, Navy Strength opened for patio and indoor seating, plus takeout and delivery.
Otto's Shrunken Head, New York City – You can buy signature mugs and shirts in the online store for this divey East Village den of Tiki. On March 27, 2020, Otto's launched a Bandcamp page with a 20-song benefit compilation album that you can download. The Pandemic Punch comp spans a wide variety of genres (punk, rockabilly, garage, psychedelic and more), and all proceeds benefit Otto's. You can also contribute to a GoFundMe page for the staff. Otto's began offering cocktails and merchandise to-go on the sidewalk in front of the bar in early June 2020, then added outdoor seating in early July. In February, Otto's joined other NYC venues in resuming indoor service at 25 percent capacity. The laws were later loosened and Otto's began to add its signature musical events as the summer kicked into gear.
Psycho Suzi's Motor Lounge, Minneapolis – The long-running kitschy bar and restaurant offers an online "Bou Tiki" featuring custom mugs and gift cards. The restaurant reopened with limited patio seating in June 2020, but was forced to close for the winter due to state restrictions on indoor dining. A grand reopening was held April 16, 2021, with hours expanding as Minnesota moved into "patio season."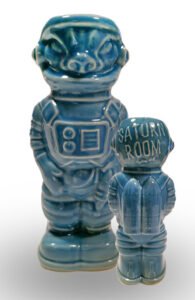 Saturn Room, Tulsa, Okla. – This relaxing Tiki lounge in the downtown arts district of Tulsa sells a wide variety of merch via its official website: Mugs, shirts, hats, hoodies, etc. Saturn Room is currently open with patio and indoor seating.
Shore Leave, Boston – The South End nautical Tiki bar features staple items such as pins, hats, and mugs in its online store along with one unique bar accessory: a kitchen apron for stylish home bartenders. Shore Leave also offers gift cards online. Shore Leave reopened May 1, 2021, with outdoor patio seating along with a new food menu.
Smuggler's Cove, San Francisco – The award-winning nautical rum and Tiki bar from Tiki cocktail maestro Martin Cate has a new online store that has featured mugs and other merch, plus signed copies of Smuggler's Cove: Exotic Cocktails, Rum and the Cult of Tiki, the acclaimed book by Martin and wife Rebecca. After more than a year, Smuggler's Cove reopened at full capacity on June 15, 2021. While "recovering from lockdown and some slow business" in August, Smuggler's Cove announced a series of auctions on eBay featuring mugs and collectibles from Cate's personal collection.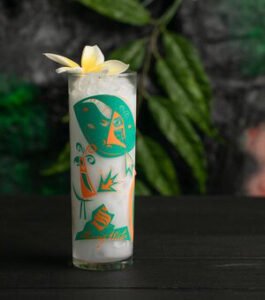 Strong Water, Anaheim – This tropical bar featuring well-crafted Tiki cocktails and Asian fusion food navigated the pandemic with takeout and curbside pickup, plus walk-up outdoor service and an assortment of merchandise. Pick up mugs, glassware, pins and more in the online store. Strong Water returned to indoor dining on May 6, 2021, with reservations through the official website.
Three Dots and a Dash, Chicago – The award-winning tropical craft cocktail bar does everything big, and the online store is no exception. There are multiple pages of merchandise listed, from iconic signature mugs (Fijian Mermaid, Sea Urchin, Seahorse Bowl, Skull Wall), to apparel (aloha shirts, hoodies, T-shirts, hats, socks), and other cool items (swizzle sticks, shot glasses, pins, snowglobes, et al.). Employees can also be helped via GoFundMe.
UPDATED: Tiki-Ti, Los Angeles – The legendary Hollywood haunt that's still run by the family of pioneering Tiki bartender Ray Buhen has a robust online store featuring signature mugs, Mai Tai glasses, T-shirts, hats, pins, and bamboo straws. The small bar, in business since 1961, finally reopened on Wednesday, July 7. That's appropriate, since faithful followers have been hoisting an online toast to Ray every Wednesday in the tradition followed since his death in 1999. In honor of the 60th anniversary of the Tiki-Ti, Shag has created a new mug and aloha shirt that will be released at a special event on Sept. 26. The artist will be on hand from 2 to 4 p.m. to sign the merch.
Tiki TNT, Washington, D.C. – The sprawling bar and eatery attached to the Potomac Distilling Company (producers of Thrasher's Rum) has gift cards available online. You can also help the cause by picking up some rum in the D.C. area. The Thrasher's Rum site also has gift cards and merchandise. Tiki TNT reopened in June 2020.
* Press coverage: Todd Thrasher on what's next for the industry as it reopens
UPDATED: Tiki Tolteca, New Orleans – This French Quarter craft cocktail lounge has several signature mugs for sale online, including one of the last mugs created by the late "Lord Of Lowbrow," artist The Pizz. Tiki Tolteca reopened durng the pandemic in October 2020. Like the rest of New Orleans, Tiki Tolteca went dark after being slammed by Hurricane Ida in August 2021, but will be reopening on Thursday, Sept. 16.
Tiki Underground, Akron, Ohio – This Tiki revival oasis in northern Ohio has been very active online during the pandemic, opening in May 2020 with limited patio seating plus curbside pick-up and delivery. Indoor seating returned, and events were added over the ensuing months. In late August, owners Sean and Jessie Coffey expanded their online offerings to include mugs and other branded merchandise. In January 2021, Tiki Underground was forced to close again due to updated COVID guidelines, but the bar reopened just in time for its fourth anniversary party on March 20. New merchandise featured online included Zombie glasses designed by Kymm Bang, and mugs by Eekum Bookum. Tiki Underground recently held its ninth marketplace event in August 2021 while working on a move to a new location in Cuyahoga Falls later this year.
The Tiny Tiki – The tiniest (and only) Tiki bar in Spokane, Wash., has gift cards available on its website.
Tonga Hut, Palm Springs and Los Angeles – The oldest Tiki bar in Los Angeles held its grand reopening on May 14, 2021. Dozens of dedicated fans and regulars chipped in to help build a 2,000-square-foot outdoor space in Hollywood that will help expand capacity and offer a safer environment. The Palm Springs location has been open since early in the pandemic. Donations are being accepted via GoFundMe pages for the staff and owners of the Hollywood location.
Trader Mort's, San Diego – It's not a bar, but this historic "neighborhood market and beverage depot" on Shelter Island has been a Tiki staple since 1964, offering a wide selection of rum. You can buy select merchandise online, such as the signature mug based on "Mr. Tiki," the carving by legendary artist Eli Hedley that has stood outside the store since the early 1960s. There are other mugs, plus apparel and even a few delicious Demerara rums: Lemon Hart 151 and Lemon Hart Original 1804.
Trader Vic's – The venerable chain of South Seas-themed restaurants that dates back to founder Victor "Trader Vic" Bergeron, creator of the Mai Tai, has many franchise locations worldwide in addition to its flagship in Emeryville, Calif. The corporate online store has always been extremely robust, with dozens of items including mugs, apparel, "gifts & swag," barware, mixes & dressings, and "Trader's Treasures." Sign up for the newsletter and get info on special sales up to 30 percent off. While the Emeryville location reopened early in the pandemic, the vintage downtown Atlanta restaurant finally returned in November. In May, a new Trader Vic's opened in the airport terminal in San Jose, Calif. In August, Trader Vic's celebrated the 77th anniversary of the Mai Tai with a special event in Emeryville and a blowout sale online.
UPDATED: Trailer Happiness, London – When the pandemic hit, the longtime rum and Tiki haven in the UK launched a new online store featuring shirts, hats and bar tab vouchers. After serving cocktails to go, the bar finally got the green light to reopen for in-person service on April 12, 2021. The first stage was limited hours and outdoor only, but capacity was increased and the launch featured a special menu. On May 17, Trailer Happiness reopened for inside service, then prepared for a loosening of COVID restrictions in July. Tragically, before that could happen, a massive storm unleashed catastropic flooding in the underground lair. There was extensive structural/electrical damage that will take months to repair, owner Sly Augustin said in a July 14 post on Instagram. "This obviously sucks but we are grateful that nobody was killed or injured," he wrote. "To say the support from our community (both near and wide) has been strong is an understatement, it's been truly overwhelming. Please know that every message of support is appreciated and has made this unexpected detour a little less painful." In September, Trailer Happiness is embarking on its latest "We Rum This City" residency by taking over the Hoxton Southwark every Thursday thru Saturday from 5 p.m. to 1 a.m. Online fundraising continues after recently surpassing the £50,000 goal. Follow Trailer Happiness on Instagram and Facebook for updates.
UnderTow, Phoenix – You can grab a selection of apparel, face masks and more in a new online store for this vibrant modern craft cocktail and Tiki bar. UnderTow reopened in its original location in September, then partnered with the Hotel Valley Ho in Scottsdale, home of the annual Arizona Tiki Oasis, on a pop-up bar in the resort's reception hall from January through March 2021. UnderTow has reopened in a totally redesigned, larger space featuring decor and design by Tiki Diablo. A second UnderTow is expected to open in 2022 at Epicenter, a new residential and commercial development in Gilbert.
* First look: Phoenix cocktail bar UnderTow reopens inside Century Grand building
VenTiki, Ventura, Calif. – Several signature mugs can be found on this Tiki lounge's new online store, including the "Lucky Ku" designed, sculpted and produced by Outl1n3 Island. Tiki Tony also has several available, including the VenTiki Mascot Mug produced by Tiki Farm, and the Pineapple Mug produced by Munktiki. The store also features shirts and hats, plus glassware. VenTiki also has a GoFundMe page for its staff. VenTiki is open for outdoor dining, plus a special to-go menu.


UPDATES: The Tiki Times: Exclusive 2021 events guide
Check the calendar for the latest upcoming live and virtual events, now updated into 2022.
SUPPORT BAR & RESTAURANT WORKERS
Following are some of the remaining relief funds and resources set up to support those in the industry whose livelihoods were interrupted by the coronavirus crisis.
GoFundMe (and similar) pages
* Canoe Ventures (includes Navy Strength, Seattle)
* Esotico Miami
* Kahuna Tiki, Los Angeles
* Last Rites, San Francisco
* Lettuce Entertain You Employee Emergency Relief Fund (includes Three Dots and a Dash, Chicago)
* Miami Restaurant Employee Relief Fund
* Mother Of Pearl, New York City (proceeds used to provide free meals to children)
* Otto's Shrunken Head, New York City
* Pagan Idol, San Francisco
* Pearl Diver, Nashville
* Rumba, Seattle
* Stardust Lounge & Aku Aku Tiki Bar, Orlando
* Tiki Ko, Bakersfield, Calif.
* Tiki Tango Hideaway Oasis, Atlanta
* Tonga Hut, Los Angeles – Staff | Owners
* Ventiki, Ventura, Calif.
* Victory Brands (includes The S.O.S Tiki Bar, Atlanta)
* Zombie Village, San Francisco
Permanent closings
Sadly, the list of bars that have shut down for good due to financial hardship is growing. Some many return in the future in another location, but it's unfortunate that anyone has to close up shop. Below is just a sampling of some of those that have officially announced permanent closings:
* BlackTalil, New York City
* Cane Rhum Bar, Charleston, S.C.
* Donna, Brooklyn
* Glady's, Brooklyn
* Hidden Idol, Denver
* Lun Wah Restaurant & Tiki Bar, Roselle, N.J.
* Mother Of Pearl, New York City
* Pegu Club, New York City
* Shore Leave, Toronto
* TikiCat, Kansas City
State and national resources
* Aid and Resources for Bartenders During the COVID-19 Bar Closures (Liquor.com)
* Another Round Another Rally
* Hospitality Helping Hands (South Florida)
* Hospitality Industry Associates Fund
* Hospitality Relief Resources for North America
* Independent Restaurant Coalition
* The James Beard Foundation's Open for Good campaign.
* One Fair Wage – Emergency Coronavirus Workers Support Fund
* Restaurant Employee Relief Fund
* Restaurant Workers' Community Fund
* Save America's Restaurants (petition)
* Save Local Restaurants
* Save the Night
* USBG National Charity Foundation
* World's Biggest Tip Jar (GoFundMe)
Tales of the Cocktail: More resources
Industry and media coverage
* Has the Coronavirus Pandemic Destroyed American Bar Culture? (The Daily Beast)
* Pandemic Relief Fund for Restaurants Is Open, but Cash Will Go Fast (New York Times)
* Everything Restaurants Need to Know About the Restaurant Revitalization Fund (Eater)
* Restaurant Revitalization Fund Offers Much-Needed Assistance To Struggling Industry (Forbes)
* So Long to All That Bar Business (Punch)
* What Is the RESTAURANTS Act — and Can It Really Save the Hospitality Industry? (Grub Street)
* Bars Must Change for Good After Coronavirus (Food & Wine)
*****************************************
MORE ON THE ATOMIC GROG

Daiquiris of Hope: Keeping the spirit of our favorite bars and bartenders alive
A salute to our favorite industry professionals in their time of need:
Daiquiri of Hope #2: Beachbum's Special Daiquiri (Dedicated to Jeff "Beachbum" Berry)
Daiquiri of Hope #1: Martiki's Merchant Daiquiri (Dedicated to Martin Cate)
Contributed: The Underground Cardamom Daiquiri (Dedicated to Tiki Underground)


Atomic Grog Cocktail Recipes, A through Z
A comprehensive list of every recipe we've posted on the site.


Okole Maluna Society: The Mai-Kai Cocktail Guide
Hurricane Hayward reviews and rates the historic restaurant's current and past tropical drinks, plus reveals a treasure trove of ancestor and exclusive tribute recipes.


The Atomic Grog 10th anniversary: Beware! Deadly Zombies ahead
After 10 years and more than 1 million page views, we take a look back at the blog's best posts and most popular cocktails. A special anniversary Zombie kicks off 10 months of deliciously dangerous drinks.