Updated Dec. 2, 2020
With bars and restaurants across the country (and world) forced to close due to coronavirus restrictions, many establishments near and dear to our hearts are going through rough times. Even with many reopenings, severe restrictions are keeping business to a minimum as the pandemic still surges across the country, and some are even experiencing a second shutdown.

We feel strongly about supporting all of the owners, managers and employees as they face severe turbulence in their chosen profession. Please do all you can to help them out by whatever means possible. One easy way for all of us to do this is to frequent their online stores, buy merchandise and gift cards, and put some cash back in their coffers. Also note that many areas of the country have expanded rules to allow take-out and delivery of alcohol as well as food, so check with your local establishments for more info. It may be their lifeline.
Many establishments have offered food and inventive cocktails to go. Call your local establishments to check, and visit this Facebook group for more info on who's offering take-out and delivery services.

Below you will find links to many of the Tiki bars and restaurants across the country with merchandise and gift cards for sale online. Below that are links to crowd-sourced fundraisers for employees along with other organizations that are working feverishly to aid bar and restaurant workers. It's sad, but we're also compiling a list of bars (still small, fortunately) that have announced permanent closings.
We also remind you to continue to support the many artists and merchants who now depend on direct sales to customers to survive. You can find links to many of them in the right rail of this blog post. With events being closed and postponed, they rely even more on a steady stream of online income. Some of the online events held around the world also include marketplaces and ways to make donations to Tiki establishments.

NEW Sippin' Santa and Miracle pop-ups return for the holidays
Despite the pandemic, the seasonal pop-up bars from the Miracle team, including Beachbum Berry's Sippin' Santa, have returned to spread holiday cheer across the land. Local restrictions will apply, of course, but at the very least you should be able to get to-go cocktails and pick up some of the coolest Christmas mugs and glassware. A chunk of the merchandise profits goes to the host bars, so buy from your local location if possible. There are 25 Sippin Santa pop-ups in 15 states plus Washington, D.C., and Canada. This includes Berry's own Latitude 29 in New Orleans and quite a few year-round Tiki establishments: Archipelago in D.C., Navy Strength in Seattle, The Grass Skirt in San Diego, The Jungle Bird in Sacramento, and Huli Huli in Powell, Ohio. Miracle, which has less of a Tiki bent but still leans heavily into rum cocktails and immersive holiday decor, has some 75 U.S. locations in 32 states plus eight international outposts . Most pop-ups should be open by Black Friday and run though the end of the year, though dates may vary. Click the links above for the full lists of locations.
* Press coverage: Can Christmas-themed Miracle bars help save America's devastated bar industry?
Christmas pop-up bars Miracle and Sippin' Santa return for another festive season
* Previous on The Atomic Grog: Sippin' Santa / Beachbum Berry interview
SUPPORT TIKI BARS ONLINE
Following are links to bars and restaurants in the greater Tiki scene offering online sales during these trying times. If you find any broken links, please let us know and we'll update. Also, please send us any additions to this list via email or as a message on our social media pages (Facebook | Twitter | Instagram). There's also a new Facebook group to join and add comments, find more ways to help.
NEW indicates listings newly added to this page, not necessarily new stores or merchandise.
Aku Aku, Orlando – A small and inviting mid-mod Tiki oasis near downtown, Aku Aku has reopened with restrictions and limited capacity. A Kickstarter campaign was launched to sell the new Gill-Man Chu Tiki Mug, designed by Doug Horne and manufactured by Tiki Farm.
NEW Archipelago, Washington, D.C. – The online merch shop for this island-themed neo-Tiki hotspot features a small but well designed assortment of glassware, including snifters and Mai Tai glasses along with a signature mug from Tiki Farm. Locals can also order the weekly "Tiki Box," a party pack featuring up to 10 cocktails plus goodies for garnish and links to music and videos to enhance your backyard bash. For the holiday season, Archipelago is hosting Beachbum Berry's Sippin' Santa pop-up for the third year. Hearty souls can enjoy the outdoor seating, and the less adventurous can take home a special holiday Tiki Box.
Bahi Hut, Sarasota – This historic (est. 1954) but underappreciated Tiki landmark took a while to ramp up online merch, but in September finally launched an online shop. Signature "Big Tim" mugs ( created by Robo Tiki) are available in sets of two, with more merchandise coming soon. Recognized as the oldest Tiki bar in Florida, Bahi Hut is also site of the annual Tiki Fever event, which unfortunately had to be postponed this year. The bar reopened on Oct. 3 with strict COVID-19 guidelines, including masks, temperature checks and limiting indoor seating. The outdoor patio has plenty of seating.
UPDATED: Beachbum Berry's Latitude 29, New Orleans – The bar and restaurant owned and operated by author and Tiki revival pioneer Jeff "Beachbum" Berry and his wife Annene Kaye is well represented in the BeachbumBerry.com store, including syrups and barware. While you're there, pick up the Bum's books so you can make the hundreds of tropical classics at home while we wait for our favorite bars to reopen. After six months, Latitude 29 reopened Oct. 2 with reservation-only seating, including a new outdoor area. Take-out food and cocktails are also available. Go to Latitude29nola.com for deatils. Of course, Latitude 29 is also hosting Beachbum Berry's Sippin' Santa, the holiday pop-up concept that includes dozens of locations across the country. Much merchandise, including festive mugs and glasses, are available only at the bar.
Daiquiri of Hope: Beachbum's Special Daiquiri
Chopper, Nashville, Tenn. – This new robot-themed Tiki bar has gift cards available online along with its to-go service. The bar has reopened with a take-out menu and indoor seating social distancing rules.
Clifton's Pacific Seas, Los Angeles – Closed since the early days of the pandemic, the Tiki bar inside the legendary Clifton's complex has a variety of items in the Exposition Marketplace of The Neverlands. These include a variety of mugs and "assorted curiosities." Check back regularly for new items.
Esotico Miami – In addition to a wide selection of "Tiki Away Cocktails," this tropical hideaway in the Magic City led by noted Tiki mixologist Daniele Dalla Pola offers unique custom bar tools and mugs. Esotico also has a GoFundMe page that benefits its employees. The restaurant reopened indoor dining under social distancing restrictions in August after offering outdoor dining as well as takeout, curbside pick-up and delivery throughout the pandemic.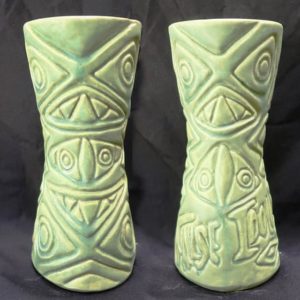 False Idol, San Diego – Consortium Holdings, one of the partners (along with Tiki bar guru Martin Cate) in this over-the-top throwback to classic Tiki hidden inside the Craft & Commerce bar, offers mugs and aloha shirts for sale online. Gift cards are also available. False Idol has reopened, serving cocktails and food via reservations only. In November, pioneering Tiki artist Bosko (who designed much of False Idol's decor) released The Fog Cutter mug for False Idol, exclusively available at TikiBosko.com. The mug also comes with a 20 percent discount on the documentary Bosko and the Rebirth of Tiki on the early years of the Tiki revival.
Forbidden Island, Alameda, Calif. – You can buy apparel, mugs, and gift cards directly from one of the Tiki revivals's first shining beacons. Forbidden Island also has a GoFundMe page for its staff. After being closed for more than four months, Forbidden Island opened a socially-distant Tiki garden and patio for limited hours in late July.
Foundation Tiki Bar, Milwaukee – Grab a Rum Barrel mug, a Mai Tai glass and a few other items from this long-running Tiki revival hotspot. Foundation is open with limited outdoor and indoor seating. Locals can also order to-go cocktail kits, which can sometimes include special signature glasses.

Frankie's Tiki Room, Las Vegas – A wide variety of mugs, glassware and apparel fill the online store of this beloved Tiki bastion in Sin City. You can also pick up gift certificates and a copy of the 2013 book, Liquid Vacation, which features recipes for 77 of the cocktails served at Frankie's. Frankie's reopened to the public on June 3, but it was forced to close again in late July due to local restrictions. Frankie's reopened again on Sept. 21 at 50 percent occupancy, requiring face masks and observing all COVID-19 safety protocols. Due to occupancy restrictions, the annual anniversary party and mug signing will not be held at the bar. But the 12th anniversary mug, created by Bosko, will be available for purchase at FrankiesTikiRoom.com beginning Dec. 6 at noon.
Fuchsia Tiki Bar, New Paltz, N.Y. – This small tropical escape hidden away in Ulster County, around 70 miles north of the Big Apple, is plugging away with merchandise, gift cards and cocktails cocktails to go. On June 25, Fuchsia opened for indoor dining with limited seating capacity. On July 6, new T-shirts went on sale in the online store.
UPDATED: The Grass Skirt, San Diego – This fun Tiki hangout hidden inside Good Time Poke in the scenic Pacific Beach neighborhood has a plethora of merch: Mugs, bowls and glassware; plus a variety of shirts and pins. Also, a portion of gift card purchases go toward helping the staff. The Grass Skirt reopened on May 29. In November through December, The Grass Skirt became one of several dozen locations of the annual Beachbum Berry's Sippin' Santa pop-up, featuring festive cocktails and merchandise.
NEW: Hala Kahiki, Chicago – The historic Tiki bar and lounge, established in 1966 in the suburb of River Grove, has an extensive online menu available for pick-up. The family owned and operated establishment is open to guests with outdoor patio seating, but it also has a vast array of food and drinks on the to-go menu for thirsty guests. Many items from the in-house gift shop (which is also open in a limited capacity) are also listed on the e-commerce site: tons of Hawaiian shirts, glasses and mugs, even an assortment of spirits. Hala Kahiki offers locals a one-stop shop for a non-stop Tiki party.
UPDATED: Hale Pele, Portland, Ore. – The Pacific Northwest's long-running Tiki paradise has an array of merch in its new online store, from mugs to glassware to shirts to pins to gift cards. There's also a virtual tip jar for the staff. While you're there, sign up for the email blast to get news and updates. In December, Hale Pele began offering freshly made cocktail mixes for pickup. Just add spirits.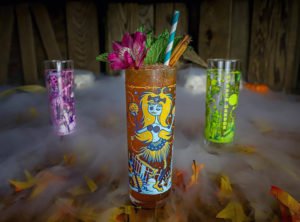 Hidden Harbor, Pittsburgh – The web store at this popular Tiki revival craft cocktail bar offers gift cards, plus exclusive mugs and other merchandise. Sign up for their newsletter and be the first to know about new offerings. Hidden Harbor reopened with limited outdoor sidewalk seating in June, but faces closure during the upcoming winter months. In the meantime, Hidden Harbor released special Halloween merch and participated in Boos! Brews & Barbecue on Oct. 25 with its neighbor and corporate sister, Independent Brewing Company.
Hula Hula, Seattle – The longtime kitschy karaoke and Tiki bar offers a wide selection of apparel, including multiple styles of shirts and hats. On June 20, Hula Hula reopened for food, cocktails and karaoke under the state of Washington's guidelines.
The Inferno Room, Indianapolis – Check out the online store for mugs, pins, and hats. On June 8, The Inferno Room reopened at 50 percent capacity.
Kon Tiki, Tucson, Ariz., – The venerable restaurant, one of the few Tiki temples dating back to the mid-century, offers a selection of mugs and apparel in its online store. New to the store is the exclusive Forbidden Ruins mug, designed by Trader Brandon and produced by Munktiki. You can also contribute to a staff GoFundMe page. The restaurant reopened its dining room in May in addition to offering take-out.
Kowloon, Saugus, Mass. – This historic Asian restaurant with Tiki flair has a full-blown online gift shop filled with mugs and bowls, shirts, hats and plushes. You can also buy gift certificates. Kowloon reopened with outdoor seating on June 9. On June 25, the restaurant added drive-in movies and car-hop service for guests to enjoy from their cars along with an outdoor Tiki bar and live music.
Laki Kane, London – The acclaimed craft Tiki bar from mixologist and author Georgi Radev has an online shop featuring a nice selection of mugs, plus signed copies of Radev's Let's Get Tropical. Laki Kane reopened in July 4 by reservation only under strict new guidelines.
Last Rites, San Francisco – Dubbed "Polynesian noir," this unique and modern take on Tiki with a backstory revolving around a plane crash has had to battle its own takedown by coronavirus. While the bar remains closed, you can buy gift cards and make donations to help the staff.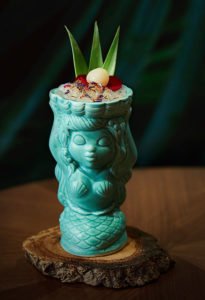 Lono, Los Angeles – There are quite a few items to choose from in the online store for the Umbrella Hospitality Group, which owns this Hollywood Boulevard haunt. You can pick up a gift card, plus signature mugs, glassware, pins, and hats. A selection of cocktails are also available for pickup and delivery.
Lost Lake, Chicago – Early in the pandemic, this award-winning craft cocktail bar created a GoFundMe page with 100 percent of the virtual tips going to the laid-off staff. Donors received a special newsletter containing food and drink recipes to make at home, plus other special features. The bar took the first step in toward reopening in June, when laws were changed to allow takeout cocktails along with food. With a full-blown reopening still on the distant horizon, the ambitious Lost Lake at Home program was launched in October. A monthly membership gives locals access to unique and special rums, bottled cocktails, plus lots more.
Lost River, Detroit – The Web store of this rum-focused tropical neighborhood bar on Detroit's Eastside features gift cards, plus an assortment of merchandise (mugs and glassware, plus shirts and pins). There's also an option to "tip your bartender." According to a post on Instagram, Lost River will not reopen to the public until early 2021. In the meantime, to-go service will continue on Fridays and Saturdays.
UPDATED: The Mai-Kai, Fort Lauderdale – After a temporary closing in late October due to a back-of-house flood, The Mai-Kai has re-launched its online Trading Post. The digital version of the restaurant's on-site gift shop features custom mugs, apparel, jewelry, Tikis, artist prints, menus, and more. Inventory changes, so check back often. Even more exciting, The Mai-Kai launched its first eBay store to sell vintage items that were used in the restaurant and never before available to the public. After closing in the early months of the pandemic, The Mai-Kai's bar and dining rooms reopened to the public under social distancing rules in late May, remaining open until a massive storm hit just before Halloween. A reopening date will be announced soon. There will be a Virtual Tiki Bingo event to benefit The Mai-Kai employees on Dec. 10. Click here for info and updates.
View this post on Instagram
Max's South Seas Hideaway, Grand Rapids, Mich. – Featuring an in-house ceramic studio along with one of the most ambitious build-outs since Tiki's mid-century heyday, this acclaimed new restaurant originally sold exclusively to its on-site guests. Now, however, they continually stock a vast online store with limited-edition mugs, bowls, clothing, and other collectible merchandise. Gift cards are also available. There's also a GoFundMe page to aid employees. The restaurant reopened on June 15 and had a special mug release launch on Father's Day. Since then, they've also ramped up their to-go offerings, which now include 26 different canned cocktails, from Mai Tais to Painkillers to Zombies and more.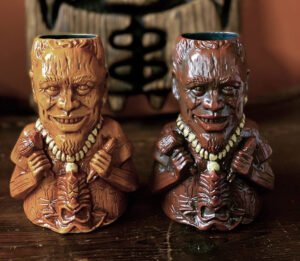 It was announced on Oct. 30 that Max's was filing for bankruptcy but planned to stay open while creditors are being repaid. In November, Michigan's governor again closed restaurants to indoor dining in an effort to slow spiking coronavirus cases. The restrictions began Nov. 18 and were scheduled to last three weeks. Max's announced that it's switching to takeout and delivery only.
* Max's South Seas Hideaway celebrates one year but faces uncertain future
The Mermaid, Los Angeles – The tropical cocktail bar in Little Tokyo is selling merchandise – including hats, mugs, and shirts – via a GoFundMe page. There's also an online option for gift cards on its official website. The Mermaid reopened on June 11.
Mutiny, Detroit – This cozy tropical craft cocktail bar in southwest Detroit, open since late 2017, is raising money for its staff with several new limited-edition mugs produced by Tiki Farm, plus T-shirts and gift cards. On Oct. 30, Mutiny opened for dine-in service at 50 percent capacity.
UPDATED: Navy Strength, Seattle – Order gift cards from this tropical-themed bar and restaurant with an eco-friendly attitude. There's also a GoFundMe page for the staff. Navy Strength also offers cocktail kits, spirits and food to go. During the holidays, Navy Strength transformed into a Beachbum Berry's Sippin' Santa pop-up location, featuing unique cocktails and mugs.
No Bones Beach Club, Chicago, Portland and Seattle – The plant-based vegan restaurant with a Tiki flair offers online gift cards as well as a variety of merchandise (hoodies, shirts, pins, and reusable metal straws).
Otto's Shrunken Head, New York City – You can buy signature mugs and shirts in the online store for this divey East Village den of Tiki. On March 27, Otto's launched a Bandcamp page with a 20-song benefit compilation album that you can download. Like many other live music venues in NYC, the rock 'n' roll Tiki bar finds itself in especially dire straits. The Pandemic Punch comp spans a wide variety of genres (punk, rockabilly, garage, psychedelic and more), and all proceeds benefit Otto's. You can also contribute to a GoFundMe page for the staff. Otto's began offering cocktails and merchadise to-go on the sidewalk in front of the bar in early June, then added outdoor seating in early July. Check Facebook for updates.
Psycho Suzi's Motor Lounge, Minneapolis – The long-running kitschy bar and restaurant offers an online "Bou Tiki" featuring custom mugs and gift cards. The restaurant reopened with limited patio seating on June 5.
Rumba, Seattle – You can purchase gift cards via the website of this acclaimed rum bar and Caribbean restaurant, or help the bartenders through GoFundMe.
Saturn Room, Tulsa, Okla. – This relaxing Tiki lounge in the downtown arts district of Tulsa sells hats and shirts via its official website. Saturn Room opened with patio seating by reservation only on May 20.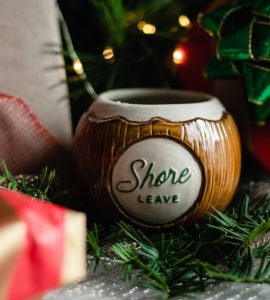 Shore Leave, Boston – The South End nautical Tiki bar features staple items such as pins, hats, and mugs in its online store along with one unique bar accessory: a kitchen apron for stylish home bartenders. Shore Leave also offers gift cards online. A limited takeout menu is also available.
Smuggler's Cove, San Francisco – The award-winning nautical rum and Tiki bar from Tiki cocktail maestro Martin Cate has a brand new online store featuring merch, gift cards, and donations to their staff. Grab their cool signature mugs while they last, plus a selection of apparel and a signed copy of Smuggler's Cove: Exotic Cocktails, Rum and the Cult of Tiki, the epic book by Martin and wife Rebecca. At long last, Smuggler's Cove began offering cocktails and rum to go in October. Drinks are fresh and canned for your convenience, available at Smugglerstogo.com along with food (required) and rare rums.
Daiquiri of Hope: Martiki's Merchant Daiquiri
* What happens if your bar doesn't fit in CA's reopening plan? Smuggler's Cove doesn't know
NEW Strong Water, Anaheim – This tropical bar featuring well-crafted Tiki cocktails and Asian fusion food has navigated the pandemic with takeout and curbside pickup, plus walk-up outdoor service and an assortment of merchandise. Pick up glassware, apparel, bar tools, masks and more in the online store. Strong Water is also once again hosting Beachbum Berry's Sippin' Santa for the holidays, featuring festive seasonal cocktails and merchandise.
Three Dots and a Dash, Chicago – The award-winning tropical craft cocktail bar does everything big, and the online store is no exception. There are multiple pages of merchandise listed, from iconic signature mugs (Fijian Mermaid, Sea Urchin, Seahorse Bowl, Skull Wall), to apparel (aloha shirts, hoodies, T-shirts, hats, socks), and other cool items (swizzle sticks, shot glasses, pins, snowglobes, et al.). Employees can also be helped via GoFundMe. Check the official website for info on how to make reservations for limited indoor bar and outdoor patio seating.
TikiCat, Kansas City – The highly regarded bar at the forefront of the Tiki revival in the Midwest has an online store that includes several well-designed mugs and shirts. Contribute to this GoFundMe page to help the employees of TikiCat and neighboring HopCat. Sadly, this announcment was posted July 7 on the official Facebook page: "After extensive negotiations with the landlord, we were not able to come to a mutual agreement on the terms of our lease. TikiCat will not be reopening in its current location. We hope to find a new location and reopen at some point in the future, although the timing is uncertain. Until then, we will keep our amazing customers and employees in our thoughts and in our hearts. Without them, TikiCat would never have become such a special place. Hopefully, we can resurrect it someday in a new space, under different circumstances."
Tiki Ko, Bakersfield, Calif. – The online store for this tropical hideaway features mugs and glassware, plus shirts and gift cards. Tiki Ko remains closed to for in-person dining, but offers a wide variety of to-go items, including cocktails and rums. There's also a Gofundme page for the staff.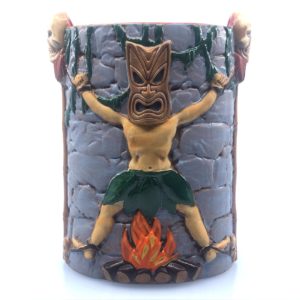 UPDATED: Tiki Iniki, Hawaii – The lively bar and grill owned and operated by rock music legend Todd Rundgren and his wife Michele has a full selection of shirts, hats, and hoodies available in the online store. Tiki Iniki reopened on Oct. 15 for in-person cocktails and dining, but has been forced to close again starting Dec. 6 because of new travel regulations on the island of Kauai. According to an announcement on social media: "We hope to be back and rocking in the new year but until then, it's not goodbye, just a hui ho!"
Tiki-Ti, Los Angeles – The legendary Hollywood haunt that's still run by the family of pioneering Tiki bartender Ray Buhen has a robust online store featuring signature mugs, Mai Tai glasses, T-shirts, hats, pins, and bamboo straws.
Tiki TNT, Washington, D.C. – The sprawling bar and eatery attached to the Potomac Distilling Company (producers of Thrasher's Rum) has gift cards available online. You can also help the cause by picking up some rum in the D.C. area. The Thasher's Rum site also has gift cards and merchandise. Tiki TNT opened outdoor patios for food and drink service on June 3.
Tiki Tolteca, New Orleans – This French Quarter craft cocktail lounge has several signature mugs for sale online, including one of the last mugs created by the late "Lord Of Lowbrow," artist The Pizz.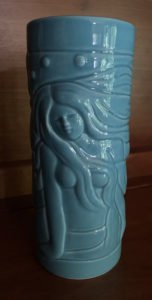 UPDATED: Tiki Underground, Akron, Ohio – This Tiki revival oasis in northern Ohio has been very active online during the pandemic, including virtual events and a special mug release for bar's thrid anniversary in March. In late May, Tiki Underground reopened with limited patio seating to go with its ongoing curbside pick-up and delivery. Indoors seating returned, and events were added over the ensuing months. In late August, owners Sean and Jessie Coffey expanded their offerings to include mugs and other branded merchandise. With COVID spiking again in November, Tiki Underground closed its dining room and reverted to carry-out and curbside pick-up. To support its staff while closed, 10 percent of all online gift card sales will go to an employee fund, and buyers also get a 20 percent bonus card. The online store also features a virtual tip jar, with 100 percent going to staff.
Daiquiri of Hope: The Underground Cardamom Daiquiri
The Tiny Tiki – The tiniest (and only) Tiki bar in Spokane, Wash., has gift cards available on its website.
Trader Mort's, San Diego – It's not a bar, but this historic "neighborhood market and beverage depot" on Shelter Island has been a Tiki staple since 1964, offering a wide selection of rum. You can buy select merchandise online, such as the signature mug based on "Mr. Tiki," the carving by legendary artist Eli Hedley that has stood outside the store since the early 1960s. There are other mugs, plus apparel and even a few delicous Demerara rums: Lemon Hart 151 and Lemon Hart Original 1804.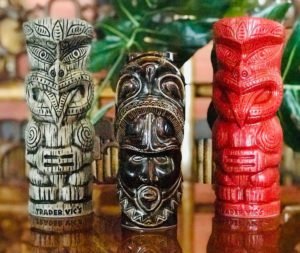 Trader Vic's – The venerable chain of South Seas-themed restaurants that dates back to founder Victor "Trader Vic" Bergeron, creator of the Mai Tai, has many franchise locations worldwide in addition to its flagship in Emeryville, Calif. The corporate online store has always been extremely robust, with dozens of items including mugs, apparel, "gifts & swag," barware, mixes & dressings, and "Trader's Treasures." Sign up for the newsletter and get info on special sales up to 30 percent off. While the Emeryville location reopened earlier in the pandemic, the vintage downtown Atlanta restaurant (the only other U.S. outpost) has finally announced its return on Friday, Nov. 6. Seating is by reservation only through OpenTable.
Trailer Happiness, London – The longtime rum and Tiki haven in the UK has a new online store featuring shirts, hats and bar tab vouchers. Owner Sly Augustin states that 100 percent of the profits will go to the staff and the small independent suppliers that rely on the bar. He promises to add "more cool stuff as the weeks go by."
UnderTow, Phoenix – This small but vibrant modern craft cocktail and Tiki bar launched a new online store featuring merchandise and collectible items that sell out fast. You can also help the staff via GoFundMe. UnderTow reopened in its underground location in September with plans to take over the restaurant space next to Century Grand in the Arcadia neighborhood next year. Both are owned by Phoenix-based beverage company Barter & Shake.
VenTiki, Ventura, Calif. – Several signature mugs designed by Tiki Tony can be found on this Tiki lounge's website, including the VenTiki Mascot Mug produced by Tiki Farm, and the Pineapple Mug produced by Munktiki. VenTiki also has a GoFundMe page for its staff. VenTiki reopened in late May.


UPDATED: The Tiki Times: Exclusive 2020 events guide
The Tiki Times calendar features live online meet-ups, interviews and happy hours, plus benefits helping those in need.
SUPPORT BAR & RESTAURANT WORKERS
Following are just a few of the many relief funds and resources set up to support those in the industry whose livelihood has been curtailed by the coronavirus crisis. Email any additions to this list, send us a message via social media (Facebook | Twitter | Instagram) or comment in this Facebook group.
Retrolicious Digital Cocktail Book
Produced by author and bartender-at-large Tiki Lindy, this $20 eBook features recipes from 20 bartenders, who will share in all the proceeds. There are 20 cocktail recipes, 20 mocktail recipes plus two bonus recipes by Tiki Lindy.
Spiribam
All proceeds from the spirits company's merch store will be donated to Another Round Another Rally. Items includ mugs, pins, hats and shirts.
GoFundMe (and similar) pages
* Barter & Shake (includes Undertow, Phoenix)
* Canoe Ventures (includes Navy Strength, Seattle)
* Esotico Miami
* Existing Conditions, New York City
* Forbidden Island, Alameda, Calif.
* Fuchsia Tiki Bar, New Paltz, N.Y.
* Jungle Bird, Sacramento
* The Kon-Tiki, Oakland, Calif.
* Last Rites, San Francisco
* Lettuce Entertain You Employee Emergency Relief Fund (includes Three Dots and a Dash, Chicago)
* The Limbo, Nashville, Tenn.
* Max's South Seas Hideaway, Grand Rapids, Mich.
* Miami Restaurant Employee Relief Fund
* Mother Of Pearl, New York City (proceeds used to provide free meals to children)
* Otto's Shrunken Head, New York City
* Pagan Idol, San Francisco
* Pearl Diver, Nashville
* Rumba, Seattle
* Rum Club, Portland, Ore.
* Stardust Lounge & Aku Aku Tiki Bar, Orlando
* Swizzle, Miami Beach
* TikiCat, Kansas City
* Tiki Ko, Bakersfield, Calif.
* Tiki Tango Hideaway Oasis, Atlanta
* Tonga Hut, Los Angeles – Staff | Owners
* Tonga Hut, Palm Springs
* Ventiki, Ventura, Calif.
* Victory Brands (includes The S.O.S Tiki Bar, Atlanta)
* Zombie Village, San Francisco
Venmo: A digital wallet
Share money virtually with these bars seeking aid. Go to Venmo.com, create an account, and search for the usernames listed below.
* Devils Reef, Tacoma, Wash. (@devilsreef)
* Lei Low, Houston (@LEI LOW STAFF)
Permanent closings
Sadly, as the pandemic stretches further into 2020, the list of bars that have closed for good due to financial hardship has started to grow. Some many return in the future, but it's unfortunate that anyone has to close up shop. Below is just a sampling of some of those that have official announced permanent closings:
* BlackTalil, New York City
* Donna, Brooklyn
* Glady's, Brooklyn
* Hidden Idol, Denver
* Mother Of Pearl, New York City
* Pegu Club, New York City
* Shore Leave, Toronto
* TikiCat, Kansas City
More links
* Facebook: Join this group to comment, find more ways to help
* Ladies Who Tiki: Check out the list on their website
State and national resources
* Aid and Resources for Bartenders During the COVID-19 Bar Closures (Liquor.com)
* Another Round Another Rally
* Chicago Hospitality United Tip Jar
* Florida Restaurant Employee Relief Petition
* Hospitality Helping Hands (South Florida)
* Hospitality Industry Associates Fund
* Independent Restaurant Coalition
* Institute for Better Drinking Coronavirus Relief Fund
* The James Beard Foundation Food and Beverage Industry Relief Fund
* #LiftYourSpirits campaign from the National Restaurant Association Educational Foundation
* National Restaurant Association restaurant recovery plan petition
* One Fair Wage – Emergency Coronavirus Workers Support Fund
* Restaurant Employee Relief Fund
* Restaurant Strong Fund
* Restaurant Workers' Community Fund
* Save America's Restaurants (petition)
* Save Local Restaurants
* Save the Night
* ServiceIndustry.tips
* SOBEWFF & FIU Chaplin School Hospitality Industry Relief Fund
* Punch's Tip Your Bartender initiative | Instagram
* Restaurant Rescue and Save Nightlife Plan (New York City)
* USBG National Charity Foundation
* World's Biggest Tip Jar (GoFundMe)
Tales of the Cocktail: More resources
Industry and media coverage
* Late-night restaurant owners want to play fair. So far, they say, Newsom hasn't
* For many bars in Atlanta, to-go cocktails are the only thing keeping them afloat (The American South)
* To-Go Drinks an Elixir for Public, a Lifeline for Business (The New York Times)
* The Nation Wanted to Eat Out Again. Everyone Has Paid the Price. (The New York Times)
* What happens if your bar doesn't fit in CA's reopening plan? Smuggler's Cove doesn't know
* Life Behind Bars: Can Bars Survive the Pandemic?
* How a cocktail can help quell the COVID-19 economic panic (Roll Call)
* How to Donate to Help Restaurant Workers as the Industry's Covid-19 Struggles Continue (Robb Report)
* Thirst Group Unites Bars Across America In Fight For Insurance Protection (Imbibe)
* Bars Must Change for Good After Coronavirus (Food & Wine)
* How to Make Sure Your Restaurant Is Welcoming to Everyone (Food & Wine)
* What Will Make Restaurants Feel Safe in the COVID-19 Era? (Food & Wine)
* What Re-Opening Looks Like For Cocktail Bars Across America (Imbibe)
* A Different Kind of Cocktail Revival (Punch)
* Bars Are Starting to Reopen. Owners Share Their Thoughts and Ideas. (Liquor.com)
* Funds and support initiatives for the New Orleans service industry
* Traveling in spirit: How to-go drinks and cocktail kits are letting us escape
* Diageo donates extra $1 million to on-trade
* The Emotional Toll of COVID-19 on the Hospitality Community
* Tobin Ellis' Next Trick: An Virtual Hub For Industry Focused COVID-19 Relief Resources
* Over 500 distilleries have returned to alcohol's roots to fight COVID-19 from the bottom up
* How American Bartenders Are Supporting Each Other Right Now (Liquor.com)
* How to Help the Hospitality Industry (Punch)
* How to Help The Hospitality Industry During COVID-19 Bar Closures (Imbibe)
* 5 Ways You Can Help Your Favorite Bartenders Right Now (Adweek)
* Cocktail Bars Demand Action in Light of COVID-19 Closures (Imbibe)
*****************************************
Stuck at home in search of Tiki cocktail recipes? We can help.


Atomic Grog Cocktail Recipes, A through Z
A comprehensive list of every recipe we've posted on the site.
>>> COMPLETE LIST OF DRINKS


Okole Maluna Society: The Mai-Kai Cocktail Guide
Hurricane Hayward reviews and rates the historic restaurant's current and past tropical drinks, plus reveals a treasure trove of ancestor and exclusive tribute recipes.
>>> A DEEP DIVE INTO THE COCKTAILS OF THE MAI-KAI
>>> List of all 100+ recipes